News
Back to Listing
PFW's 'DeepGen' Stereo Tech recognised with AIS Lumiere™ Technology Award
October 1, 2015
The Advanced Imaging Society (AIS) presented its top annual honors for technical achievement at the 6th Annual Technology and New Products Awards at Paramount Pictures Studios in Hollywood yesterday, and has recognised Prime Focus World (PFW) with a Lumiere™ award for its proprietary 'DeepGen' stereo technology.
The Society's Lumiere statuettes are presented to companies and products that have achieved both 'innovation and impact' in moving the entertainment industry forward. PFW's 'DeepGen' technology, part of its 'Hybrid Stereo Pipeline', allows the use of 'deep' compositing data in the stereo conversion process, providing superior conversion results, a more efficient workflow and more flexibility and control.
Accepting the award on behalf of the PFW technology team were Global Head of View-D™ Eoin Greenham and Software Developer Laszlo Rikker, who attended the awards along with Global Technical Supervisor Rajat Roy and Software Developer Luke Gray.
PFW Global CEO Namit Malhotra was the first to congratulate the team on their success. "Driving greater innovation through our R&D and pipeline teams is the future of our industry. I believe that our commitment to creating technological breakthroughs is our biggest differentiator, and I wholeheartedly support the effort to help drive our industry forward by constantly raising our own bar."
"I'm delighted to accept this award on behalf of the PFW techdev team," said Eoin Greenham, Prime Focus World. "Having the opportunity to work on some of the best 3D content with the biggest studios in the world is a great honor, and being tasked with finding solutions and developing ever more efficient ways of working is both rewarding and gratifying. It's a privilege to be working for a dynamic company that is constantly breaking new ground and pushing the boundaries of what is possible in stereo conversion."
PFW was honored at the ceremony alongside companies such as AMD, Barco, Jaunt, Nokia, Sony Computer Entertainment and Technicolor.
For a full list of the event's honorees, click here.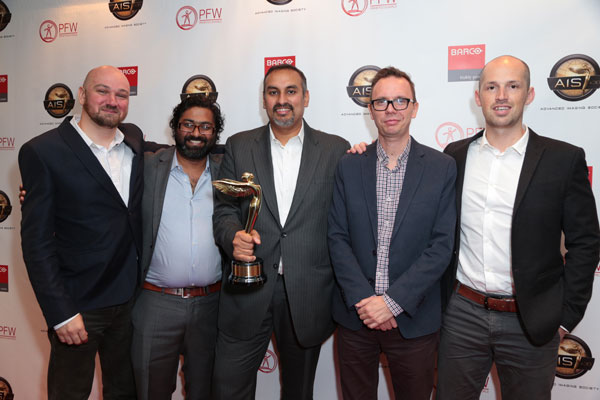 (L-R) PFW'S EOIN GREENHAM, RAJAT ROY, NAMIT MALHOTRA, LASZLO RIKKER AND LUKE GRAY ACCEPTING THE ADVANCED IMAGING SOCIETY LUMIERE TECHNOLOGY AWARD
PFW GLOBAL HEAD OF VIEW-D EOIN GREENHAM WITH THE AWARD
PFW R&D SOFTWARE DEVELOPER LASZLO RIKKER WITH THE AWARD
PFW GLOBAL TECHNICAL SUPERVISOR RAJAT ROY WITH THE AWARD